PREZISTA® : Single 800-mg Tablet
Once-Daily PREZISTA® (darunavir) Helps Reduce Pill Burden* With Single 800-mg Tablet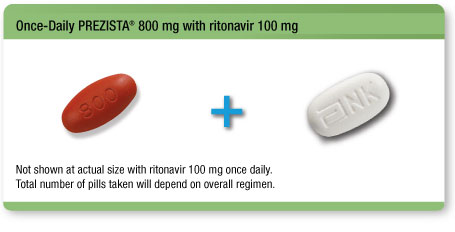 *400-mg tablets are no longer available.
PREZISTA® single 800-mg tablet is smaller than the 600-mg tablet
Dosing for treatment-naïve adult patients
Once-Daily PREZISTA®— one 800-mg tablet taken with ritonavir 100 mg once daily and with food—is recommended for treatment-naïve adults as part of combination ARV therapy.1
No dose adjustment required for:
Mild-to-moderate hepatic impairment1
Learn more about dosing information for treatment-experienced patients
ARV=antiretroviral; PI=protease inhibitor.
Selected Important Safety Information
Hepatotoxicity: Drug-induced hepatitis has been reported with PREZISTA®/r. During the clinical development program (N=3063), hepatitis has been reported in 0.5% of patients receiving combination therapy with PREZISTA®/r. Patients with preexisting liver dysfunction, including chronic active hepatitis B or C, have an increased risk for liver function abnormalities, including severe hepatic adverse reactions
Sulfa Allergy: PREZISTA® should be used with caution in patients with known sulfonamide allergy
Hepatic Impairment: PREZISTA®/r is not recommended for use in patients with severe hepatic impairment. There are no pharmacokinetic or safety data available in patients with severe hepatic impairment
Please see additional Important Safety Information.
Please see full description of ARTEMIS Study design and baseline characteristics.