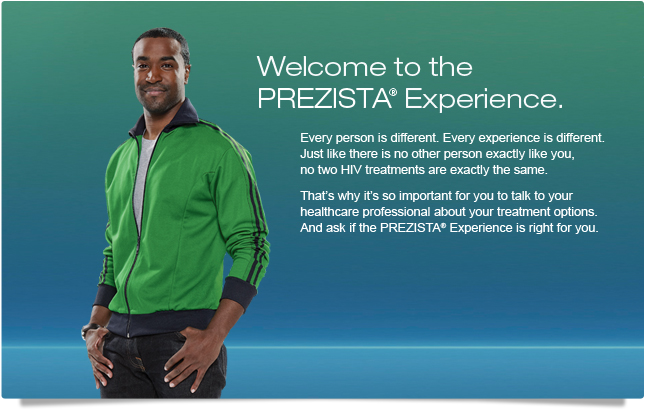 We know that the experience of living with HIV is about much more than a medication. That is why we are dedicated to providing resources to help you. So click the buttons below to explore the PREZISTA® Experience.
PREZISTA® (darunavir) is a prescription medicine. It is one treatment option in the class of HIV (human immunodeficiency virus) medicines known as protease inhibitors.
PREZISTA® is always taken with and at the same time as ritonavir (Norvir®), in combination with other HIV medicines for the treatment of HIV infection in adults. PREZISTA® should also be taken with food.
PREZISTA® does not cure HIV infection or AIDS and you may continue to experience illnesses associated with HIV-1 infection, including opportunistic infections. You should remain under the care of a doctor when using PREZISTA®.
Please read Important Safety Information below, and talk to your healthcare provider to learn if PREZISTA® is right for you.
* PREZISTA® taken with Norvir® may be written as PREZISTA®/Norvir® or PREZISTA®/ritonavir or PREZISTA®/r. This web site uses PREZISTA®/Norvir®.